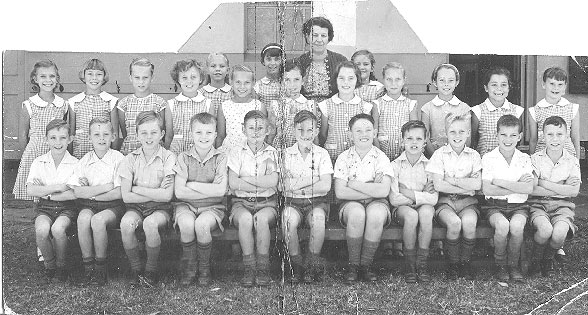 Mufulira Primary School 1957
Grade Two


Teacher: Mrs. Harvey


Back Row Left to Right:


Val Lubbe, Gail Luke, Mrs Harvey, canít remember

Middle Row:
Charlotte Van Wyk, Moira canít remember, Jacquline Rice(?) ,Shiela canít remember, Stephanie Holtman, canít remember, canít remember, Elrina Vermulen, Dierdre Arnott, Helen Brown, Helen Henderson.

Front Row:


George Kehoe, Marcus Pfeffer, Raymond?canít remember, Darrel Walker, Keith Bryant, Keith Boyce(?), Donald aka ĎTubbyí Thomas, Andrew canít remember, Alex Murray, Henry Lange, Leonard canít remember.

I, Don (Tubby) Thomas, have put in names as I seem to remember them, but hey, that was 45 years ago, and the last person I remember seeing from this photo was Val Lubbe in the mid seventies. I take no responsibility for the (mis)spelling or incorrect names.


If anyone out there can supplement or correct names Iíd appreciate the input.



Where are all these people and what are they doing now?



I, Don (Tubby) Thomas am in Australia High School Teaching.


Marcus, I think, Died in a car accident in about 1969


Gail Luke (Longmore), I heard was in Cape Town


Did Helen Brown have a brother Jeremy and a sister Moira? Moira was my first love in 1965 ish.